On this page...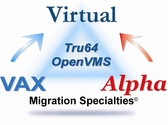 Company Background
"Quality means doing it right when no one is looking." - Henry Ford
Migration Specialties is a privately held corporation founded in 1992. The company provides products and services targetting OpenVMS and Tru64 UNIX users running on HP Alpha and Integrity hardware. These solutions also cover legacy Compaq and Digital Equipment Corporation VAX and Alpha hardware. Migration Specialties is an active member of HP's AllianceONE, Intel's Software Partner, and Microsoft's Partner programs. The company is based out of Florence, Colorado, USA.
Migration Specialties products and services are available worldwide. Our business focuses on preserving important software while upgrading the legacy hardware that supports it. We offer remote and onsite delivery options.
Migration Specialties provides quality products and services on time at reasonable rates. We pride ourselves on excellence and honesty. We are experts in our field and do not sell products or services we cannot support.
Privacy Policy
Opting in should be the rule, not the exception.
Privacy is important to us. Information provided to Migration Specialties is treated as confidential and is only shared with our affiliates in-so-far as is necessary to provide the services requested. We do not provide contact information such as e-mail addresses, phone numbers, or surface addresses to marketing organizations or spammers. We actively work to suppress junk mail, Internet spam, ad-ware and spyware.
Mailing Lists
Migration Specialties does not do blind mailings. If you receive written correspondence from us, it's because someone here physically perused a list of contacts and decided the information at hand would be of interest to you.
References
From time to time we receive requests for references from prospective clients. We may request that a client act as a reference if we have provided them with a similar service. We will only provide client contact information to a prospect with the client's permission.
Articles
We occasionally publish articles concerning our business, products, and services. Client organizations may be identified in general terms in these articles. We never provide specific client information or contacts without first obtaining permission.
Ethics
"The difficulty with trust and character is that it does not show up on a balance sheet." - Professor Richard Tedlow
Migration Specialties operates in an honest, forthright manner. We build our relationships on trust and integrity. Our business and employees follow a strong code of ethics designed to protect the company, the employees, our clients, and our vendors.
Code of Ethics
We always conduct business with honesty and integrity.
We follow the letter and the spirit of the law.
Employees and contractors should treat each other and our customers fairly.
Employees and contractors should act in the best interest of the company and avoid conflicts of interest.
Employees and contractors must protect company assets and reputation.