On this page...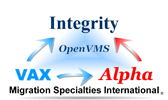 CBL Translator - DIBOL to C Converter
Note: CBL is only actively supported by Migration Specialties under OpenVMS. The product is supported on a case-by-case basis if used for other operating systems. The source code for the product is available for purchase.
Product Overview
Migration Specialties' CBL Translator is a VAX DIBOL to ANSI C converter. Converted applications can be ported to a host of operating systems, including OpenVMS, UNIX, and Windows.
CBL was designed to convert DEC VAX DIBOL. Consequently, it may or may not provide a viable means of converting derivative DIBOL applications written in DBL or Softbol. The ease of a derivative DIBOL conversion depends upon the extensions in use.
Migration Specialties focuses on OpenVMS-based solutions. We provide direct support for OpenVMS DIBOL conversions using CBL, including turnkey solutions. CBL is an excellent tool for moving DIBOL applications to the OpenVMS environment on the Alpha and Integrity platforms. Our support for DIBOL conversion to UNIX or Windows-based platforms is limited. Conversion to non-OpenVMS environments are reviewed on a case-by-case basis.
The CBL Translator is very good at converting DIBOL code to C. It does take some practice and skill to use effectively. The CBL Details page provides a description of how the tool is used, while the CBL Example page shows DIBOL code translated by CBL. The CBL Conversion Process page will help you understand the effort required to implement a DIBOL to C conversion project using CBL.
Consider Emulation
If you are running DIBOL on an old VAX system, hardware emulation offers an easy way to extend your application's life expectancy. Our VAX emulation solutions allow you to port your entire VAX environment, including VAX DIBOL applications and the VAX DIBOL compiler, to a Windows-server or HP Alpha system running OpenVMS. See our VAX Emulation page for more information.
DIBOL Services
If it's DIBOL support you need, Migration Specialties offers DIBOL consulting and support services. See our Services page for more information.
The CBL User Guide
The CBL Example Page provides a detailed look at how CBL converts DIBOL code to C. If you would like to review the product in more detail, you can download the entire CBL User Manual in a Zip archive at this link:
The Flanagan Story
Want to read about a real DIBOL conversion project that employed CBL and Migration Specialties turnkey conversion services? Check out The Flanagan Story, a detailed description of a DIBOL conversion project.