On this page...

"Virtual Alpha's let you retain important OpenVMS and Tru64 applications on new hardware."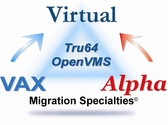 Supported O/S
Avanti and FreeAXP have been tested building, booting, and running the following O/S.
Tru64 & Digital UNIX
Digital UNIX V3.2C
Digital UNIX V3.2G
Digital UNIX V4.0B
Digital UNIX V4.0D
Digital UNIX V4.0E
Digital UNIX V4.0F
Digital UNIX V4.0G
Tru64 UNIX V5.0
Tru64 UNIX V5.0A
Tru64 UNIX V5.1
Tru64 UNIX V5.1A
Tru64 UNIX V5.1B
Tru64 UNIX V5.1B-5
Tru64 UNIX V5.1B-6
OpenVMS
OpenVMS 6.2
OpenVMS 6.2-1H3
OpenVMS 7.0
OpenVMS 7.1
OpenVMS 7.1-1H1
OpenVMS 7.2
OpenVMS 7.2-1
OpenVMS 7.3
OpenVMS 7.3-1
OpenVMS 7.3-2
OpenVMS 8.2
OpenVMS 8.3
OpenVMS 8.4
Host O/S
Avanti is tested and runs under the following 64‑bit host O/S.
Windows
Windows Server 2012
Windows Server 2008
Windows Server 2003
Windows 8
Windows 7
Windows Vista
Windows XP
Online Purchase Policy
PayPal, customers will have different online purchase limits depending on how they are paying. If the customer checks out as a guest using a debit or credit card, they will have a $2,000.00 limit for the lifetime of that card. A customer using a verified PayPal account will be able to spend up to $10,000.00 per transaction. A customer using an unverified PayPal account will have different spending limits depending on what PayPal has verified with them.
Alpha Virtualization
Migration Specialties Avanti replaces Digital, Compaq, and HP Alpha hardware with virtual hardware hosted on Windows systems. Avanti improves the reliability of legacy Alpha applications while reducing their operating costs. Avanti allows Alpha OpenVMS and Tru64 UNIX software to be fully virtualized under products such as VMware®, all with no changes to the legacy application. Source code is not necessary and recompiles are not required.
Virtual Alpha Bonus
In addition to the advantages of replacing legacy Alpha hardware, an Avanti virtualized Alpha provides a host of new features. Remote hosting, remote backups, portability, experimentation, training environments, snapshots, and the like all become options with Avanti that were simply impossible with ageing physical equipment.
Alpha Virtualization Advantages
Virtual OpenVMS

,

Digital UNIX

, or

Tru64 UNIX

environment.

Quick deployment:

Three to five day implementation.

Modern hardware:

Improves reliability, performance & energy efficiency.

More Space:

Easily enlarge existing disks and add more disks.

VM's:

Supported on VMware, VMware vMotion, Sun VirtualBox, Apple Boot Camp & others.

Allows mutliple copies

on a single host.

Lower operating costs

with a smaller data center footprint.

Binary compatibility:

Application source code not required.

Improved integration

with Microsoft Windows.

High ROI:

Preservation of investment in software & vested employee knowledge.

No change

in operation or user environments.

Supported by HP

.
Avanti Products
Avanti™
Avanti is a commercial virtual Alpha solution designed to support demanding Alpha replacements. Avanti is suitable to replace low end Alpha hardware outright. Avanti can be used to replace high end Alpha hardware where performance is not a critical component. Avanti can replace systems running OpenVMS 6.2 thru 8.4 and Tru64 UNIX V3.2C thru V5.1B-6/Pk8. See the Avanti SPD and Pricing Guide for additional information.
AvantiFlex™
AvantiFlex is a custom configurable version of Avanti. Customers that do not require the full power of Avanti, but need some of its advanced features, can customize their Avanti configuration with just the components they require at a reduced cost. The number of license units purchased determine the features available under AvantiFlex. Like Avanti, AvantiFlex supports OpenVMS and Tru64 UNIX systems. See the Avanti SPD and Pricing Guide for additional information.
AvantiFlex License Units
AvantiFlex License Unit Utilization
An AvantiFlex base package includes one EV4 CPU, 128MB memory, one narrow SCSI controller, two NICs, two virtual serial ports, and 10 license units. Thus, a customer could immediately create one of the following configurations using the base package:
Virtual Alpha configured with 512MB of memory.
Virtual Alpha configured with two Narrow SCSI controllers.
Virtual Alpha configured with 3 NICs.
Virtual Alpha configured with 2 physical serial ports.
To add additional Avanti features, additional license units are required. Here are two sample AvantiFlex configurations and the additional license units required to create them. Remember, AvantiFlex already includes 10 license units in the base package.

Avanti Backup Key
Available for Avanti & AvantiFlex. Provides 30 days (720 hours) of runtime support for Avanti installations. Should the primary Avanti key become unavailable for any reason, the Backup Key can be used to keep an Avanti system running until a replacement key is obtained. The Backup Key can also be used for testing and DR exercises. Customers with an active support contract are entitled to a refresh of the Backup Key to 720 hours once per year. See the Virtual Alpha Pricing Guide for additional details.
Avanti Annual Software Support
Annual support contract covering 24 hour response, 8 - 5 MT, M - F telephone, fax, and e-mail support services and product updates. U.S. customers, Federal holidays excluded. European customers, Netherlands Federal holidays excluded.
Virtual Machines
Avanti is fully supported in virtual environments. Avanti is in active use running on VMware, Sun VirtualBox, and Apple Boot Camp virtual systems. Several clients have implemented VMware vMotion solutions, further improving application reliability and operational efficiency.
Porting to Avanti
Porting Alpha applications to Avanti is essentially the same as porting them to new Alpha hardware. The following six steps are all that is required to complete an Avanti port:
Avanti Trivia
Avanti creates a virtual Alpha environment that is indistinguishable from a real Alpha. The emulated Alpha environment is so accurate that it can be forced to bug check like a genuine Alpha.
Configure Avanti to match the legacy Alpha hardware.
Install the base

OpenVMS

or

Tru64 UNIX

O/S.
Backup the legacy Alpha disks to the Avanti system.
Restore the legacy system disks on the Avanti system.
Boot the legacy system under Avanti and adjust network parameters.
Shut down the legacy Alpha hardware.
Turnkey Ports
For customers that no longer have the skills in-house to port an Alpha system, Migration Specialties offers turnkey porting services. Turnkey services include system configuration, software porting, and onsite installation. Remote porting services are also feasible with direct access to the Alpha and Avanti hardware.
Obtaining a Quote
To obtain an Avanti porting quote, run the DCL procedure VMS_INFO.COM. Tru64 UNIX users can run the built in sys_check tool. E-mailed the resulting system information to Migration Specialties for review.
Tru64 Tip: Running sys_check
Sys_check must be run by the root login (as id 0). Inexperienced Tru64 UNIX users tend to make the mistake of using other accounts. Running from non-root will throw various errors and only give a partial output. Recent version of sys_check will not run at all unless they are run by root.
To run sys_check, the simple steps are:
# cd /var/tmp
# sys_check -all > sys.html
Depending upon the Alpha system being checked, sys_check may run for up to 40 minutes. Zip the resulting sys.html file and send it to us.
You may optionally request a brief which we will e-mail to you. Both the utilities and the questionnaire cover your Alpha hardware configuration and operating environment. Neither seeks any proprietary information or application data. One or the other must be completed before we will quote a replacement solution.
If you would like additional information concerning Alpha upgrades via virtualization, give us a
call
or . See our
OpenVMS page
for Migration Specialties OpenVMS services and our
Porting page
for other Alpha replacement options.
Alpha History
Digital Equipment Corporation introduced the Alpha series of computers in 1992. Alphas represented the first commercially viable 64-bit systems and set 64-bit computing standards for the next decade. The series was produced for 15 years, with new hardware deliveries ending in July 2007. Like their VAX predecessors, Alpha systems ranged from desktop workstations to mainframes. The system was offered with two operating systems, OpenVMS (formerly VMS) and Tru64 UNIX (formerly Digital UNIX and DEC OSF/1), which were supported across the entire range of Alpha platforms. Alpha systems were well received and deployed in a broad range of environments.
Compaq Computer obtained the VAX and Alpha product lines when it purchased Digital Equipment Corporation in 1998. Compaq's subsequent merger with HP in 2002 placed the Alpha line in the hands of Digital's former competitor, HP. Alpha systems have been supplanted by Itanium-based Integrity systems.