On this page...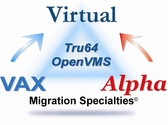 "VAXen were tough, but age catches us all. Virtual VAX keep legacy VMS applications ticking."
VAX Virtualization
Virtual VAX hardware under Windows.
Migration Specialties provides virtual VAX solutions hosted on Windows to replace legacy Digital Equipment Corporation (DEC) VAX hardware. OpenVMS software is fully virtualized with no changes to the legacy applications. Replacing a legacy VAX system with a virtual VAX is equivalent to a VAX hardware upgade. You benefit from modern hardware while retaining important legacy applications intact.
Virtual VAX Bonus
Along with the benefits of replacing legacy VAX hardware, a virtual VAX provides many new possiblities. Remote hosting, portability, multiple test-beds, training environments, backup snapshots, and more all become options with virtual VAX hardware.
VAX Virtualization Advantages
Professional services

from a company with 24 years of VAX experience.

Free Virtual VAX

software

Virtual OpenVMS

environment

Quick deployment:

Three to five day implementation

Modern hardware:

Improves reliability, performance & efficiency

No change

in operation or user environments

Binary compatibility:

Application source code not required

More Space:

Enlarge existing disks and add more disks

VM's:

Supported on VMware®, Sun VirtualBox, Apple Boot Camp & others

Allows mutliple instances

on a single host

Lower operating costs

with a smaller data center footprint

Improved integration

with Microsoft Windows

High ROI:

Preservation of investment in software & vested employee knowledge
Virtualization Solutions for VAX
Migration Specialties utilized the open source SimH VAX to upgrade legacy VAX hardware. This solution replaces the underlying VAX CPU, memory, and mass storage devices with virtual equivalents while maintaining binary compatibility with VAX O/S's and layered products. SimH VAX can be deployed on Windows and Linux-based servers.
SimH VAX runs as a 32-bit application. Standard peripherals such as serial ports, disk drives, and CD-ROM drives are emulated or mapped to equivalent host hardware. For example, RD54 disk drives can be emulated as container files, a CD-ROM can be mapped to the host's CD-ROM drive, and serial ports can be mapped to network ports.
Each emulator is binary compatible with the VAX O/S and layered product software. No modification, translation, or recompilation of code is necessary. An image of each VAX disk is transferred to the emulated system, where the code executes as it would on the physical VAX. The emulator runs as a single application within the Windows environment.
SimH VAX
SimH is an open source application. Migration Specialties materially participates in its ongoing development. SimH supports a limited set of VAX processors. It is a suitable VAX replacement when performance is not critical. Additional SimH information is available at simh.trailing-edge.com.
Porting to a VAX Emulator
Porting applications to a VAX emulator is similar to porting them to new VAX hardware. The emulator installation is first configured to look like the VAX system it is replacing. The O/S, software applications, and data are then copied to the emulated VAX system. With the O/S and applications in place, the emulated VAX is ready to boot and run.
VAX emulators create a virtual VAX environment within the context of the host O/S. The VAX operating environment is indistinguishable from the legacy VAX being replaced.
Turnkey Solutions
Migration Specialties offers turnkey porting services. Turnkey services include system configuration, software porting, and onsite installation. Remote porting services are also feasible with direct access to the VAX and virtual VAX host hardware.
Obtaining a Quote
To obtain an virtual VAX porting quote, run the DCL procedure VMS_INFO.COM. E-mail the results to Migration Specialties for review. All customer data is treated as confidential.
You may optionally request a brief which we will e-mail to you. Both the procedure and the questionnaire cover your VAX hardware configuration and operating environment. Neither seeks any proprietary information or application data. One or the other must be completed before we will quote a replacement system.
VMS_INFO.COM system configuration reporting procedure.
Request a .
If you would like additional information about a VAX upgrade via virtualization give us a
call
or . See our our
Porting page
for other VAX replacement options.