On this page...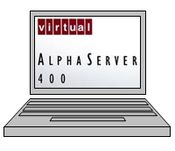 "FreeAXP™ puts an Alpha on your laptop for free!"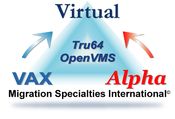 Online Purchase Policy
Per our agreement with PayPal, customers will have different online purchase limits depending on how they are paying. If the customer checks out as a guest using a debit or credit card, they will have a $2,000.00 limit for the lifetime of that card. A customer using a verified PayPal account will be able to spend up to $10,000.00 per transaction. A customer using an unverified PayPal account will have different spending limits depending on what PayPal has verified with them.
FreeAXP™ - A Free Virtual Alpha
Migration Specialties FreeAXP can replace legacy Alpha hardware with a Windows-hosted virtual machine. FreeAXP is a free Avanti™ virtual Alpha technology demonstrator. FreeAXP can be hosted on Windows 32-bit and 64-bit systems. Virtual Alphas developed using FreeAXP are fully compatible with Avanti. FreeAXP is designed to replace hobbyist and non-critical Alpha systems. Clients requiring additional performance and capabilities should consider Avanti.
Virtual Alpha Bonus
Along with the benefits of replacing legacy Alpha hardware, a FreeAXP virtual Alpha provides several new options. Multiple test systems, portability, remote hosting, training environments, remote backups, and more all become options with FreeAXP that were simply impossible with ageing physical equipment.
FreeAXP Features
Free

for commercial & personal use!

No product registration required!

Virtual OpenVMS

,

Digital UNIX

, or

Tru64 UNIX

environment.

Native

32 & 64-bit Windows host O/S support.

Simple configuration

.

No expiration date

.

Portability:

Have an Alpha available on a laptop.

VM's:

Supported on VMware, VMware vMotion, Sun VirtualBox, Apple Boot Camp & others.

Binary compatibility:

Application source code not required.

Support:

Free user forum or paid annual support.

Supported by HP

.
Binary Compatibility
FreeAXP is designed to virtualize legacy Alpha hardware. The product is binary compatible with real Alpha hardware, allowing the resident operating system and software to be ported to FreeAXP without modification or the need for source code. FreeAXP offers a simple way to upgrade existing Alpha systems to new hardware.
FreeAXP Components
FreeAXP provides the following user configurable components:
32 - 128MB of virtual memory
Up to seven storage devices
One physical CD-ROM
Two 100Mb NIC
Two virtual serial ports (1 console, 1 terminal)
Supported O/S
Avanti and FreeAXP have been tested building and booting the following operating systems.
Unix

Digital UNIX V3.2C
Digital UNIX V3.2G
Digital UNIX V4.0B
Digital UNIX V4.0D
Digital UNIX V4.0E
Digital UNIX V4.0F
Digital UNIX V4.0G
Tru64 UNIX V5.0
Tru64 UNIX V5.0A
Tru64 UNIX V5.1
Tru64 UNIX V5.1A
Tru64 UNIX V5.1B
Tru64 UNIX V5.1B-5
Tru64 UNIX V5.1B-6
OpenVMS

OpenVMS 6.2
OpenVMS 6.2-1H3
OpenVMS 7.0
OpenVMS 7.1
OpenVMS 7.1-1H1
OpenVMS 7.2
OpenVMS 7.2-1
OpenVMS 7.3
OpenVMS 7.3-1
OpenVMS 7.3-2
OpenVMS 8.2
OpenVMS 8.3
OpenVMS 8.4
Host O/S
Avanti and FreeAXP have been tested on native Windows hardware and running under VMware®, Sun VirtualBox, and Apple Boot Camp. FreeAXP runs under the following 32 and 64-bit host operating systems. Avanti runs under 64-bit host O/S only.
Windows Server 2012
Windows Server 2008
Windows Server 2003
Windows 8
Windows 7
Windows Vista
Windows XP
Virtual Machines
FreeAXP is fully supported in virtual environments. FreeAXP is in active use running on VMware, Sun VirtualBox, and Apple Boot Camp virtual systems.
FreeAXP Support
FreeAXP is provided free of charge without warranty or official support. Commercial users requiring official support can request a fee-based contract via our department.
The OpenVMS Hobbyist web site provides a FreeAXP forum to report issues and exchange ideas with the FreeAXP community. Migration Specialties moderates the forum and watches it for problem reports. FreeAXP questions and bug reports should be filed on the forum and will be addressed as time permits. We thank the folks at OpenVMS Hobbyist for providing this service and encourage you to browse the site for OpenVMS information.
FreeAXP Links