On this page...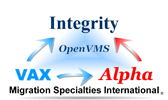 Legacy Products
The following products were developed and sold in the past by Migration Specialties. They are no longer actively maintained, but are available on a per client basis with limited support.
CVTFILE is an OpenVMS-based utility that converts EBCDIC data to ASCII and vice versa. CVTFILE understands packed-decimal and simple binary data via a user created parameter file.
OpenVMS-based tools and services developed to migrate IBM System/3, System/34, and System/36 users to OpenVMS. The products can also be used to migrate RPG II and COBOL applications running in compatibility mode on IBM AS/400, iSeries, and System i to HP OpenVMS Integrity servers.