On this page...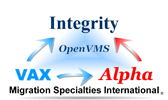 "To this day, RPG is hard to beat for developing business applications. It's a simple, structured, yet powerful programming language. Many fourth generation languages model RPG's logical cycle and flow control, but none match its elegance and simplicity."
Migration RPG History
Migration Specialties is proud of Migration RPG and is pleased to share its background. This page contains the history of Migration RPG since its inception in 1982. It also covers the product's foundation and the quality assurance testing used to ensure its quality.
Migration RPG had its beginnings in 1982 with a small company called Native Software, Inc., located in Richmond, Virginia. Original planning and preliminary development were targeted at supporting IBM RPG II applications on Digital Equipment Corporation (DEC) PDP-11 systems. This strategy was quickly revised in 1983 to support the porting of RPG II applications to DEC VAX systems under the VMS operating system.
In 1985, Mr. Claremont joined Native Software and was soon the lead engineer for the compiler. DEC began marketing the compiler in 1986 as part of their competitive migration program to attract IBM VAR's to its VAX platform. Mr. Claremont was the primary liaison between DEC and Native Software. He continued to enhance the RPG compiler, now called Migration RPG. He also developed a host of tools to compliment Migration RPG and to automate the IBM to VAX migration process.
In 1989, DEC acquired Migration RPG and the IBM migration tools from Native Software and hired Mr. Claremont to support them. The product was briefly renamed VAX RPG, but this conflicted with a native DEC product called VAX RPG II, so its Migration RPG moniker was returned. VAX RPG II was subsequently retired and Migration RPG used as its migration path. DEC's Center for Migration Services (CMS) oversaw Migration RPG and its deployment. Enhancements to the product continued under Mr. Claremont's supervision.
Migration RPG entered a state of limbo in 1992 when DEC closed the CMS. It and the IBM migration tools were acquired from DEC by Migration Specialties in 1995. Migration Specialties immediately ported Migration RPG to the DEC Alpha platform. In 2004, it was ported to the HP Integrity platform. All versions of Migration RPG are cross-platform and upwardly compatible.
Migration RPG is actively supported by Migration Specialties to this day on VAX, Alpha, Integrity, and hardware emulators running OpenVMS. It has been deployed on OpenVMS systems around the world. It has been used to successfully port RPG applications to OpenVMS from the following platforms:
Burroughs
DEC VAX (VAX RPG II)
IBM System/3
IBM System/36
Sperry UNIVAC
WANG
DEC PDP
IBM System/360
IBM System/34
IBM DOS/VS
Unisys
Migration RPG Foundation Code Base
Migration RPG is maintained from a common code base. The product was originally developed in VAX Macro-32 and the majority of its components continue to be maintained using this language. Macro-32 is supported under all versions of OpenVMS. Several Fortran and C modules round out the product components.
Migration RPG runs on multiple platforms.
DEC and Compaq VAX systems using the 32-bit DEC VAX processor.
DEC, Compaq, and HP Alpha systems using the 64-bit DEC Alpha processor.
HP Integrity systems using the Intel 64-bit Itanium processor.
Microsoft Windows-based servers using 32- and 64-bit processors and an appropriate hardware emulator.
Migration RPG Quality Assurance
Each release of Migration RPG is run through an extensive quality assurance test suite. The test suite is fully automated. It is maintained using HP's Digital Test Manager (DTM) regressive testing tool, part of the DECset product development suite.
The original test suite was developed by Digital engineers in Massachusetts in the late 1980's in a cooperative development effort with Native Software. The test suite foundations were scientifically engineered using a test development matrix. Components of Digital's VAX RPG II test suite were integrated into the Migration RPG test suite as well.
As Migration RPG's functionality was expanded, additional test programs were added to the suite. Every legitimate bug found in the product also resulted in a new quality assurance test. The CMS took over test suite maintenance when it acquired Migration RPG in 1989. Migration Specialties in turn took over the test suite when it acquired Migration RPG in 1995.
The test suite is at the heart of our quality assurance program. New versions of Migration RPG are not released until they achieve a 100% success rate within the Q/A test suite. The suite now consists of over 2,600 RPG programs and 550 interactive screens.