On this page...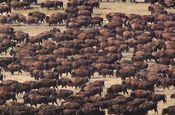 No, not this kind of migration!
Migration Services
Software migrations are generally complex, time consuming, and expensive undertakings. Most IT departments do not have the internal resources needed to research, plan, and deliver migration solutions effectively in conjunction with their daily business activities. At Migration Specialties, our primary focus is software migration. We are a targeted resource with over 20 years of migration experience that can be used to effectively deal with the specialized needs of migration projects.
Migration Specialties consulting services are designed to successfully analyze, plan, and deliver software migration projects. Engaging our services places our extensive migration expertise at your disposal to:
Evaluate migration options
Assess migration proposals
Assess the impact of a migration project on your business
Develop RFP's and RFQ's for migration projects
Plan a migration project
Manage a migration project
Deliver migration services
Test migrated applications
Develop migration documentation and specifications
At Migration Specialties we have participated in many migration projects involving different operating systems and application tools. Consequently, we offer a comprehensive suite of general migration services. In addition, we have developed specialized tools and services that are unique in the industry. The following sections provide an overview of these specialized offerings.
If you would like to learn more about migrations and their impact on a business, check out our white paper, Understanding the Business Aspects of Migration. The paper discusses various migration options, their pro's and con's, and their potential impact on your business.
RPG Migration
Migration RPG is specifically designed to facilitate moving RPG II based applications to OpenVMS. We have developed tools and procedures to ease the migration of RPG from DEC, IBM, Wang, Sperry, and other systems to HP OpenVMS. Our many years of RPG experience have left us with a thorough understanding of how RPG functions on numerous architectures.
COBOL Migration
COBOL has been a popular business application development language for decades. It's past dominance in the business world ensures that it remains relevant today and into the foreseeable future. Over the years, we've migrated IBM mainframe, IBM midrange, Wang, Sperry, Burroughs, and DEC COBOL applications to new platforms.
DIBOL Migration
DIBOL, and its PC counterpart SOFTBOL, started life unique to DEC platforms. Over time, Synergex acquired DIBOL and expanded its platform base. Along the way, the product name changed to DBL, then SYNERGY/DE. Should you want to move away from DIBOL entirely while retaining the business knowledge and capabilities inherent in your DIBOL applications, Migration Specialties offers CBL, a DIBOL to C conversion tool.
IBM S3/X Migration
Migration Specialties maintains a comprehensive suite of tools and services designed to migrate applications from IBM's System/3X family of computers (System/3, System/34, & System/36) to OpenVMS. The S/3X Migration Assistance Service and S/3X Conversion Tools product descriptions provide details about our IBM S/3X migration offerings. The products and services detailed in the product descriptions can be ordered separately or as packages.
Our Goal
Our goal is to help you complete a migration project quickly, successfully, and cost effectively. We've been doing this type of work for years. Let us help you get it done right!