On this page...
OpenVMS Features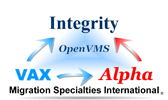 "Three industrial grade platforms, one industry leading operating system. If you don't have OpenVMS deployed on your mission critical systems, you should."
OpenVMS Anniversary
VMS V1.0
October 25, 1977
VMS V8.2
2007: 30 Year Aniversary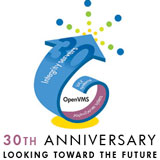 Migration Specialties VMS Buttons


OpenVMS Services
Back in 1992, Migration Specialties was founded with migration services to OpenVMS as our primary offering. We've since expanded our offerings, but OpenVMS remains a core competency. We continue to help businesses large and small in deploying and maintaining OpenVMS systems. We work closely with HP to ensure OpenVMS remains the best operating system available for business, industrial, and research applications.
Migration Specialties provides the following OpenVMS specific services:
In a business world that operates as lean as possible, OpenVMS and our targeted services are just the edge your IS department needs to continue providing cost effective, secure, scalable IS services.
OpenVMS Features
Performance
OpenVMS systems can handle up to 3,000 interactive users simultaneously. Oracle database performance has been clocked at almost 2 million transactions per minute.
Reliability
OpenVMS uptime is not measured in days, weeks, or months, but in years!
Security
OpenVMS is one of the most secure operating systems available to the general public. Don't believe us? Then check the Secunia web site and compare known OpenVMS vulnerabilities to other http://automaticlabs.com/products/enkoderformopular, but far less capable operating systems.
OpenVMS has never had a virus.
OpenVMS has not suffered from a worm since 1988.
OpenVMS has only seen about 55 CERT advisories listed in the past 18 years.
Clustering
OpenVMS is the only operating system that offers true, shared everything clustering. A cluster can be comprised of up to 96 nodes containing over 3,000 processors. All cluster members can simultaneously access the same files on shared disks. Nodes can be physically separated by 500 hundred miles (800 kilometers), offering the last word in disaster tolerance. Nodes can be added and removed from the cluster without impacting overall availability or performance.
Stability
OpenVMS has been around for over 30 years, with no end in sight. The operating system continues to evolve to meet current technology demands while providing a rock solid foundation for enterprise applications. Many programs and procedures developed on OpenVMS in past decades are still viable today, providing operational continuity and ROI unheard of in any other operating system.
More OpenVMS Information
For more information on OpenVMS, start here and see why others consider OpenVMS a truly great operating system. Then give Migration Specialties a call and start deploying OpenVMS at your facilities.